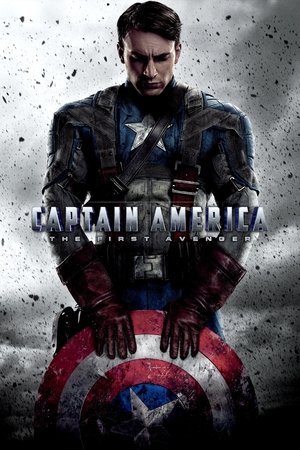 Captain America: The First Avenger
Category: Movies •
Genre: Action • Adventure • Science Fiction •
Rating: 7
Director:
Writer:
Cast: Chris Evans, Tommy Lee Jones, Hugo Weaving, Hayley Atwell, Sebastian Stan, Dominic Cooper, Toby Jones, Neal McDonough, Derek Luke, Bruno Ricci, J.J. Feild, Kenneth Choi, Richard Armitage, Stanley Tucci, Samuel L. Jackson, Lex Shrapnel, Michael Brandon, Martin Sherman, Natalie Dormer, Oscar Pearce, William Hope, Nicholas Pinnock, Marek Oravec, David Bradley, Leander Deeny, Sam Hoare, Simon Kunz, Kieran O'Connor, Jenna Coleman, Sophie Colquhoun, Doug Cockle, Ben Batt, Mollie Fitzgerald, Damon Driver, David McKail, Amanda Walker, Richard Freeman, Katherine Press, Sergio Covino, Marcello Walton, Anatole Taubman, Jan Pohl, Erich Redman, Rosanna Hoult, Naomi Slights, Kirsty Mather, Laura Haddock, James Payton, Ronan Raftery, Nick Hendrix, Luke Allen-Gale, Jack Gordon, Ben Uttley, Patrick Monckeberg, Amanda Righetti, Stan Lee,
Language: en
Country:
Release Date: July 22, 2011
Plot: Captain America: The First Avenger is a 2011 action-hero film that stars Chris Evans, Tommy Lee Jones, Hugo Weaving, Hayley Atwell, Sebastian Stan, Dominic Cooper, Neal McDonough, Derek Luke and Stanley Tucci. The movie is based on the Marvel Comics character Captain America. The movie centers with the  beginning of the first Avenger, Captain America and how he become as the hero that we know. The story begins with  Steve Rogers (Evans), a sickly man from Brooklyn who is transformed into super-soldier Captain America to aid in the war effort. Rogers must stop the Red Skull, Adolf Hitler's ruthless head of weaponry and the leader of an organization that intends to use an artifact called the "Tesseract" as an energy-source for world domination. This film received positive responses from audiences and critics around the globe. After the Captain America: The First Avenger, the sequel for this movie was announced which is entitled as "Captain America: The Winter Soldier." The director of this movie was Joe Johnston, the director of the films: The Wolfman, Hidalgo, Jurassic Park III and Jumanji.